MMIW Indigenous Women Together With Red Hand Unisex T-Shirt/Hoodie/Sweatshirt
Regular price

$29.49

Sale price

$24.99

Unit price

per
Hurry! Only
0
units left in stock!

💝THANK YOU FOR CHOOSING US!💝

We would like to express our sincere gratitude to you by offering a special gift: a generous 15% discount on purchases over $79. 

Simply use the code "NICEDAY" during checkout. We hope you enjoy this special discount and have a wonderful shopping experience here
MMIW Awareness: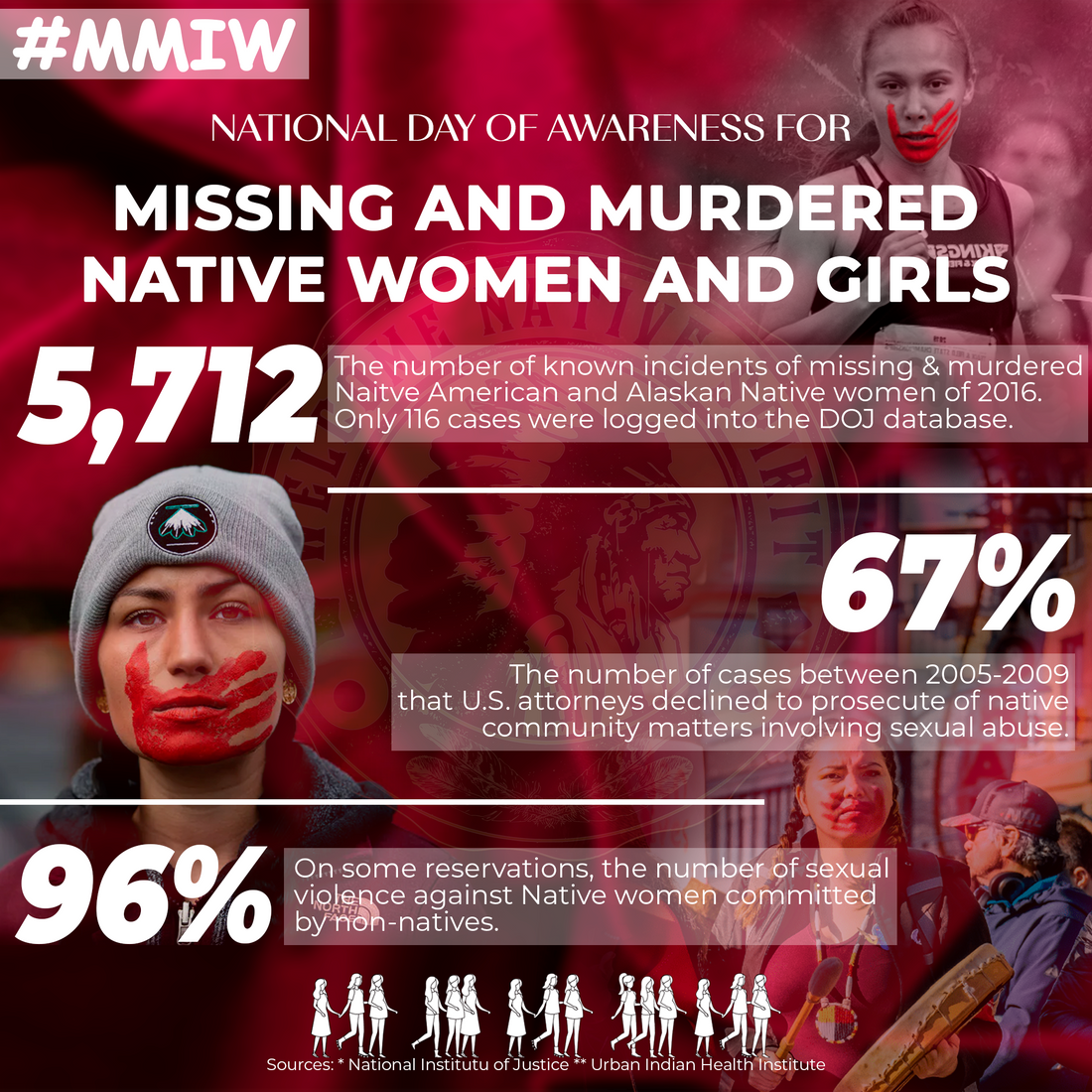 Together We Can:



Donate Information:
Each $1 contribution from you has helped create a meaningful impact and raise awareness about the crisis of Missing and Murdered Indigenous Women (MMIW).

With your support and the collective effort of our customers, we are pleased to announce that we have donated $4000 to MMIW USA through mmiwusa.org. This organization empowers the Indigenous community and provides essential resources and support.



Support MMIW Movement By Give A Dream Project: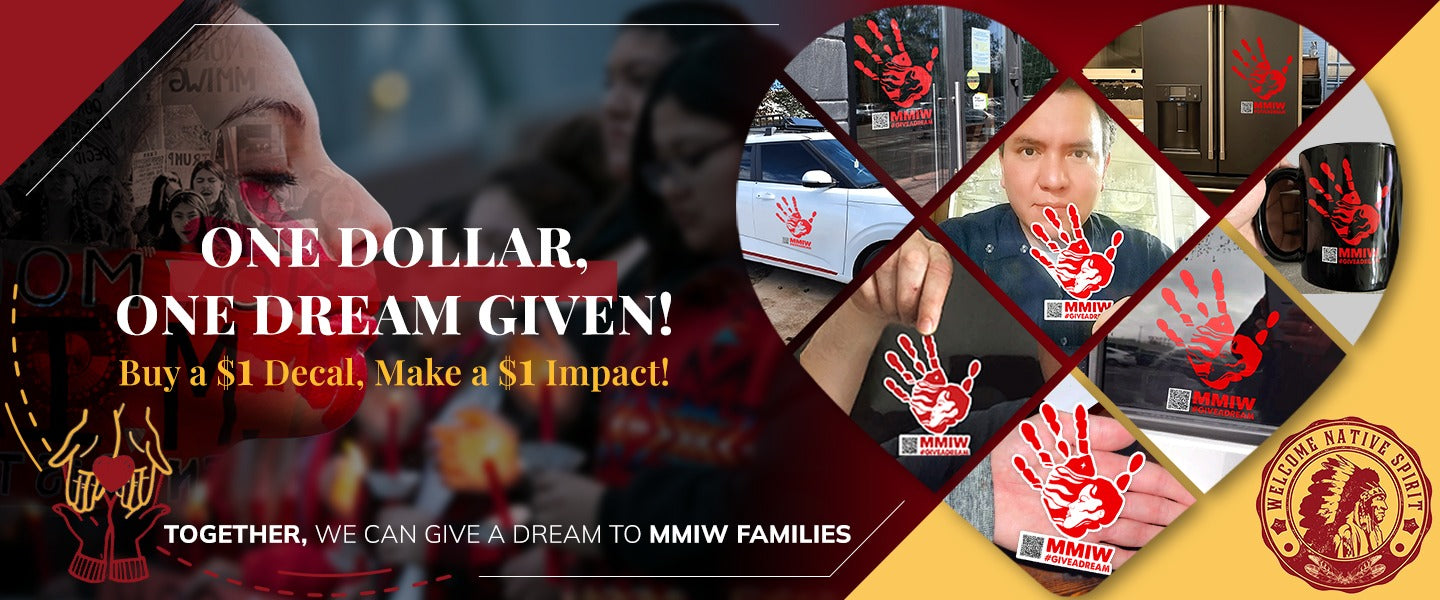 Product Details: 
We not only bring you a t-shirt with impressive and emotional designs, but also bring you a super quality product that you have never experienced.

Superior Comfort: Our t-shirt is crafted with your utmost comfort in mind. Made from premium, ultra-soft fabrics, it provides a luxurious feel against your skin. Experience the feeling of happiness as you start your day thanks to the lightness and comfort it brings.

Flattering Fit: With meticulously sewn lines to ensure a perfect fit for all body shapes and sizes. It hugs your curves in all the right places, accentuating your best features and providing a boost of confidence.

Durability and Longevity:  Made with premium materials and sturdy stitching, your shirt retains its shape, color, and overall integrity, even after countless washes, making it your go-to companion permanent in your wardrobe.

Versatility: Our t-shirt is your go-to piece for endless styling options. From casual to formal, it effortlessly adapts to any setting. Pair it with jeans, skirts, or layer it under a jacket—its versatility knows no bounds, allowing you to express your unique fashion sense.

Timeless Style: Embody timeless elegance with our t-shirt. Its classic design transcends passing fads, offering a timeless appeal that never goes out of style.

Made in 100% USA - Next day shipping. 
Refresh your wardrobe with our perfect t-shirt, which combines unsurpassed comfort, a snug fit, long-lasting durability, versatile styling and timeless elegance. Immerse yourself in the epitome of fashion and comfort, leaving a lasting impression wherever you go.
IMPORTANT NOTES:
We don't want you to choose the wrong size when ordering online. So please check our size chart carefully placed where shown near the bottom of the product image.
SHIPPING POLICY
Please keep in mind that your package's Estimated Arrival = Production time + Shipping time.
Shipping time is calculated from the day your order leaves our door to your delivery address.
Production and Shipping time varies depending on what types of items you purchase and the delivery location. Kindly note that this is the estimated time frame only:
SHIPPING PRICE

US & Canada orders: $6.99, Free Shipping for order more than $149.99

International orders: $19.99. Free Shipping for order more than $149.99

FOR ORDERS WITH MORE THAN 2 DIFFERENT ITEMS
We wanted to take a moment to inform you about the order fulfillment process that you may encounter.
If you've placed an order for multiple items, these products could arrive at different times.
Here is some information regarding the shipment of these items:
T-Shirts and Mugs from a Production Facility: This means these items arrive together in a single shipment, ensuring efficiency and convenience.
Similarly, your Decal and Handmade items will be dispatched together from the same production location.
However, it's important to note that if you make a purchase of products from different categories (e.g., a T-shirt and a Decal), they will be shipped separately, resulting in two shipments. Each shipment will include the relevant tracking information to keep you informed about their progress.
We understand that receiving separate packages at different times may be unexpected, and we apologize for any inconvenience this might cause.

RISK FREE SHIPPING

If for whatever reason your goods don't arrive within 60 days, you will be refunded in FULL for that item. This is our promise to you! If there's a missing order, please let us know via support@welcomenativespirt.com. We'll investigate (it usually took 3-5 business days) and send you another one after we got a conclusion.

CUSTOMS AND TAXES

The prices displayed on our site are tax-free in US Dollars, which means you may be liable to pay for duties and taxes once you receive your order.

Import taxes, duties and related customs fees may be charged once your order arrives at its final destination, which are determined by your local customs office. Payment of these charges and taxes are your responsibility and will not be covered by us. We are not responsible for delays caused by the customs department in your country. For further details of charges, please contact your local customs office.

WRONG ADDRESS DISCLAIMER

It is the responsibility of the buyer to make sure that she or he enters the address correctly. We cannot guarantee address changes due to strict shipping schedules. Please double-check the address you are entering, as we will NOT be held responsible for packages that are sent to the wrong address that the buyer has entered.

If the order arrives at your country and:

- The customer refuses to accept the package

- Number of attempts is made in the country of destination to deliver the package.

We reserve the right to abandon the package(s) and will not be responsible for any refund.

If you have any questions or comments, please do not hesitate to contact us through:

Email: support@welcomenativespirit.com

Address: 1942 Broadway St. STE 314C United States
***RETURNS/ EXCHANGE
Since your product is custom printed just for you, Welcome Native Spirit DO NOT ACCEPT RETURN/ EXCHANGE. If you have any problem with the item you purchased, please let us know at support@welcomenativespirit.com and let our support team do our best to assist you. We will replace defective items or an incorrect order simply by receiving a photograph showing the specific problem with the product and by including the order number.
We won't responsible for refund or exchange if you return items on your  own without contacting us first. Please don't return item to the address writing on the package. Thank you for your understanding!
***REFUND/ RESEND
We accept refund/ resent in these cases:
Please contact us within 2 days of receiving the item
We are committed to providing exceptional customer service, and we accept refunds or reshipments in the following cases:

- Damaged/Poor Quality Item: If you receive a product with a damaged or poor-quality print, please contact us within 2 days]of receiving the item. We will initiate a return or reshipment process after reviewing your case.

- Wrong Item (Wrong Design, Wrong Product Type): In the event that you receive the wrong item, such as a different design or product type from what you ordered. We will promptly arrange for a return or reshipment.

- Wrong Size Item (We Sent the Wrong Item You Purchased): If you receive a product of the incorrect size that does not match your original order. We will facilitate the return or reshipment process.

- Item Has Not Arrived Within 35 Days for US Orders or 60 Days for International Orders: If your order has not been delivered within 35 days (for US orders) or 60 days (for international orders) from the date of purchase, please notify us. We will investigate the issue and either refund your purchase or reship your order, based on your preference.
Please contact us by email at support@welcomenativespirit.com and our support team will help you arrange a replacement or refund as soon as possible.
Replacement orders will take time like normal orders (7 business days for processing and 2 - 4 weeks for delivery). Customer don't need to pay for any replacement fee/ resend fee in these case.

Refund will be process right after we receive your request. Credit will be back to your account in 3 - 10 days regardless of the bank of your account.  
We do not accept refund/ resent in these cases:
We regret to inform you that we do not accept refunds or reshipments in the following cases:

- Customer Chooses the Wrong Size: We are unable to process refunds or resend products if the incorrect size was selected by the customer during the order placement.

- Package Missing Due to Incorrect Shipping Address: If the package goes missing or is undeliverable due to an incorrect shipping address provided by the customer, we cannot offer refunds or reshipments.

- Customer Does Not Like the Item Material: While we strive to provide accurate product descriptions, refunds or reshipments will not be granted if the customer does not like the item material.

- Customer Changes the Order/Shipping Address After Shipment: Once a product has been printed and shipped, any changes to the order or shipping address cannot be accommodated, and refunds/reshipments will not be processed.

- Customer Returns the Product Without Notifying Welcome Native Spirit Store: To initiate any return or exchange, it is essential for customers to notify Welcome Native Spirit Store in advance. Returns received without prior notification will not be processed.

SPECIFIC CASE:
ORDER MODIFICATIONS OR CANCELLATION
After your order has been placed, you have 2 hours to contact our customer service and request order modifications or a cancellation. After 2 hours or your order has already been placed in production, they can no longer be modified.
DAMAGED/ INCORRECT ITEM
At Welcome Native Spirit Store, we are doing our best to ensure product quality and order accuracy. However, it may happen that you receive a damaged item, poor-quality printing or incorrect product.
We want you to be completely satisfied with your purchase. If an item arrives with flaws or defects, we're happy to provide you with a replacement. Please provide me the photo or video showing the wrong product and the QR code attached on the package that you received.
All we need is your order number and a clear photo showing either the incorrect item, the poor quality of the print or the damaged area of the item, and the QR code attached on the package of the affected items. Please contact us by email at support@welcomenativespirit.com and one of our helpful support staff will organize a reprint or a refund for you!
Please make sure that: We only accept settlement when you notify us within 2 days of receiving the item.
ORDER NOT RECEIVED
If your item has not arrived within 35 days for US order or 60 days for international order (not include 1 - 10 days processing) after having ordered, contact one of our heroes through our mail support@welcomenativespirit.com for a full refund of your purchase. (Please note this policy excludes errors made by customers when providing incorrect shipping details on their order(s) and/or missed parcel deliveries.)
TRACKING SAYS DELIVERED BUT YOU DIDN'T RECEIVE IT
If a package falls into this category, Welcome Native Spirit reserves the right to send a replacement. Refunds are only available for orders that have been successfully received.
ORDER LOST/ RETURN TO SENDER DUE TO INCORRECT SHIPPING ADDRESS PROVIDED
Please make sure to check carefully your shipping address before confirming your order.
If the parcel lost because of the wrong shipping address, we are not responsible for replacement/ refund.
If the tracking information shows that the parcel has been return to the sender (wrong shipping address, fail delivery because receiver not at home/ not pick up order in time...), we reserve the right to send a replacement. Refund are not accept in these case. 
If you have any questions, feel free email to support@welcomenativespirit.com. 
A great shirt the material is solf feels good on it fit perfect I am very proud of this shirt